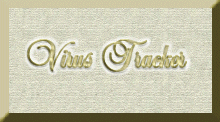 Because the situation of virus is becoming more prevalent
In conjunction with Trend Micro World
I present Trend's Virus Locator

And as an added Feature !
House Call is now available on this Site !
Click Here to Scan your Computer On-Line

Please visit the home page
of the World's Leading Virus Protection
I personally use and highly recommend their services.